Art History Gift Guide!
Are you busy trying to find the perfect gifts for everyone on your list? After the long Thanksgiving weekend of retail madness, many people are often wiped out from loads of "Black Friday" or "Cyber Monday" shopping (let's be honest, it seems to last an entire week now!)
Even with all the sales and stellar discounts, it can be hard to sort through all the noise and find exactly what you're looking for. If you're searching for the perfect gift for the artist, art historian, or art lover in your life (or maybe a fun little gift for yourself!) we've got you covered!
Read on to see our favorite art gift picks of 2017:
1. For the cat lover and art fanatic, you can't beat this shirt from Threadless.
 
2. Have friends or family spending the winter in dreary, rainy weather? Why not brighten their day with an umbrella that has a cheerful (and art historical!) surprise for them to gaze up at while the rain pours down?
3. Again, for our friends who love their furry companions more than anything else, this is the perfect choice. This 2018 planner from MoMA features artworks that showcase cats and dogs in all their glory.
4. What better way to enjoy a cozy cup of joe, tea, or hot cocoa (with marshmallows and a candy cane!) than with an art history mug? Here are a couple favorites:
5. If you like the smiley 'History of Art' design on the mug above (originally drawn by Donald Seitz in 1991), you can find the design as a print or t-shirt as well.
6. If you're a sock lover like me, you'll be excited to know that Hot Sox offers and entire line of artsy socks - there are even some amazing gift sets! Scroll through below to see some of the options: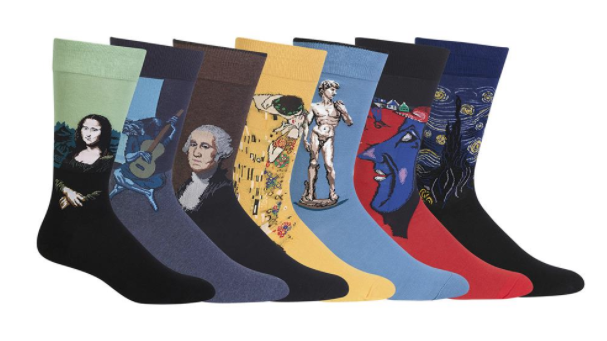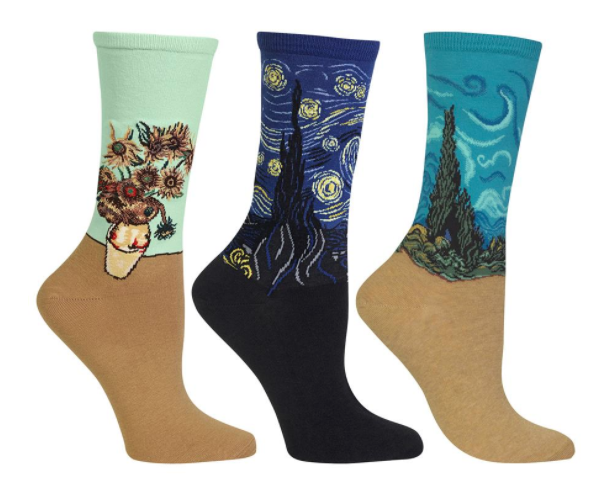 7. How about a little Frida to add some pizazz to your coworker's desk? These sticky notes should do the trick.
8. If you're looking for something really fun that can appeal to all ages, you have to check out The Unemployed Philosopher Guild's line of "Magnetic Personalities." These little finger puppets double as magnets and include a whole host of characters - these are just a few of the notable people you can choose from.
9. Know someone who is super punctual...or, maybe, someone who could use a little help getting places on time? Help them out with this amazing Dali watch (yes, his moustache rotates!)
10. Another favorite that can easily please all ages - from your five year old nephew to your next door neighbor - make their lunch a little better with this Bob Ross lunch box!
11. Last but not least, give a gift that can be worn on a favorite jacket, bag, or scarf - a set of pins that bring Van Gogh and his ear together again!