Jack O'Lanterns with an artistic twist
In preparation for Halloween, we decided to hunt around and learn a little bit about the origins of what has become a visual staple of this fall holiday in the United States - the carved pumpkin or Jack O'Lantern, as it is more fondly called.
The practice of carved vegetables lit from within actually began in the British Isles, where turnips, potatoes and even beets were carved in relation to the old Irish folktale of Stingy Jack. Legend has it that one crisp fall evening, the Devil asked Jack to grab a drink with him, but true to his name, Jack didn't want to pay for his drink. So, the Devil turned into a coin that could pay for their drinks. But Jack kept the coin, and deferred the Devil for a year. When he returned, Jack convinced the Devil to climb up into a tree to get some fruit, but then trapped the Devil in the tree by carving a cross into its trunk.
Years later, when Jack finally died, God would not allow him into heaven and the Devil would not allow him into hell (per Jack's request), so the Devil gave Jack a burning coal to light his way as he roamed the earth. Jack carved out a turnip and placed the coal inside. Whenever people would see mysterious lights in the dark or floating above a bog, they believed it to be Jack's tortured soul wandering around with his lantern. Thus, what people referred to as "Jack of the Lantern" eventually evolved into "Jack O'Lantern." People would make their own lanterns, sometimes carving faces into them, and place them in windows or near doors to ward off evil sprits (or Jack's wandering spirit!).
Irish immigrants brought this legend, coupled with the practice of carving vegetable lanterns to celebrate the fall harvest throughout the British Isles, to America where the legend continued to change over time. In America, pumpkins were easy to find and excellent for carving, so the seasonal orange fruit we know and love today were the perfect candidate to take on this tradition.
Today, Jack O'Lanterns carved with a myriad of facial expressions are an iconic emblem of Halloween, but it has become increasingly popular for festive Halloweeners to explore more artistic carving options. Those particularly talented with the knife (or the little plastic carving tools you can find at the grocery store - whatever your choice may be) adorn pumpkins with designs of famous artworks including the Mona Lisa, Munch's The Scream, Vermeer's Girl with a Pearl Earring, and Van Gogh's Starry Night.
We've gathered a few other suggestions that we challenge you to try this Halloween - whether you want to ward off evil spirits, tap into the prankster joke mindset, or break from tradition altogether, we've got an artwork for you!
Looking for something a little creepy or off-kilter? Look no further than Hieronymus Bosch! This 16th century painter from the Netherlands is known for his extreme and dramatic scenes that are overflowing with curious and intriguing details (you may be familiar with one of his most famous works - Garden of Earthly Delights, 1515). We've selected a few details for you that we think would look perfect on a pumpkin: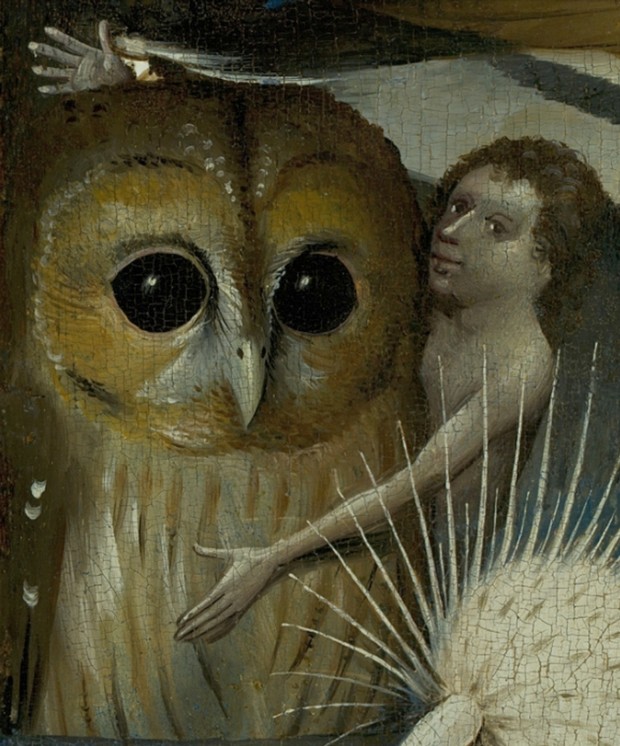 Or maybe a simpler design would be better for you? The streamlined comic-style lines and punchy phrases of Roy Lichtenstein would make a real impact and look great come Halloween night. Imagine a pumpkin carved in the style of Lichtenstein:
Please visit http://lichtensteinfoundation.org/ to learn more about Lichtenstein and see some of his amazing work.
If you have a prankster streak or are looking for something a little more clever - how about making a twist on René Magritte's The Treachery of Images, which reads "Ceci ne'st pas un pipe" (This is not a pipe). Make a small change and put the following on your pumpkin: "Ceci n'est pas une citrouille"
We love this version found at : http://www.arwedguderian.com/ceci-nest-pas-une-citrouille/